Subscribe to Court Dates on Google Calendar

Printer-friendly version
Follow these steps to have the Court Hearing Dates appear directly on your Google Calendar.  All of these tasks are performed on the Google Calendar website. You can then access the Google Calendar from your Android mobile device.
From within your Google Calendar, click the drop down arrow beside "Other Calendars" then select "Add by URL"
Then enter the URL as http://www.ncmb.uscourts.gov/iCal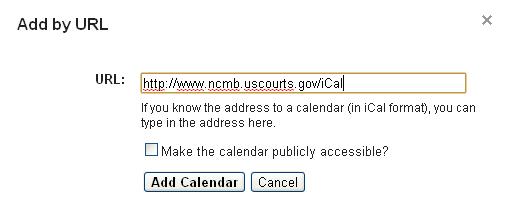 Please Note: The Google Calendar can take a long time, hours even, to first sync.